Agency Registry in Chamet App
Agency Chamet App
You will become an official agency of the App CHAMET – video chat live and party halls.
Become a Chamet Streamer models agency and work from the comfort of your home, find talents and recruit new streamer models or host models for live streaming app and videochats from anywhere in the world. Raming App is what you are searching!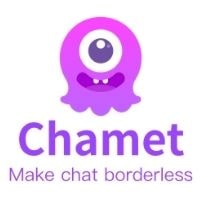 Agency Chamet App
Video chat live and party halls
Video chat 1 to 1 with registered users: You can make individual video calls with people from anywhere in the world.

Have fun in the party room: You can have video chat with a maximum of 5 people at the same time.

Guaranteed Streamers Authenticity: Use cam Live Waiting to make sure the transmitter and live coverage are consistent.

Do not allow false or different photos to the genre: All streamers are online in real time and respond to video calls in seconds.

Fluid experience in video calls: The network connection has been optimized to provide users with a more fluid video chat experience.

Compatible with beauty effects, filters and stickers: You can customize the beauty effects to make you look more beautiful. There are a variety of filters and stickers to make your chat live in more interesting Chamet App.

Real-time translation: Do not worry about the language barrier because we have a useful real-time translation.

Host Streamers from different countries: You can chat with any user in the country you like.

Fast and easy logon: Using Facebook, Google or Phone to quickly log in in Chamet and start chatting with live video with a single click. For this guide it is necessary to log in by the phone option.

Send and receive gifts in live chat or text chat: Chamet offers a popular list of stars, so you can follow them as you want. You can send and receive gifts from your favorite streamers to show your worship.

Live chat tips: Use our live video beauty effects so that it looks more handsome or beautiful. Upload your attractive cover to show you, brings more followers and fans, become famous as stars. The cover of the video will help you have more opportunities.
Admitted system: Available for Android cell phones. The agencies access from the web.

Payment Minimum Agencies: From $ 10 USD.

Frequency of payments: Weekly payments by meeting the minimum payment of agency.
Link and edit the information of your payment method.

Invite and recruit new Streamer hostesses in Chamet

Manage your CHAMET hostesses, connection time, profits.

Check the progress of your commission rate.

Receive the latest news and notifications of CHAMET APP.

Latest updates of the mobile application CHAMET APP for Android.
Your income will increase as you have more hosts transmitting actively.

Your income will grow by increasing the number of sub-agents.

Constantly recruit new hostesses for Chamet, but be sure to explain everything about Chamet, you can recommend our detailed CHAMET APP hostess guide, become Streamer in Chamet so that they understand all the operation of the APP, features, rules and recommendations.
Frequent questions

Agency Chamet App
Answers to the most frequently asked questions about the agencies in CHAMET APP.