Host Streamer Registration in Honeycam App
Streamer HoneyCam
Become a Streamer by Honeycam App – And start getting income by transmitting from your cell phone.
Start by transmitting from your cell phone as Streamer from the HoneyCam App and works from your home, generates income while you find friends and have fun to the fullest. Is your life bored? Do you need some interesting friends? Do you want to do something fun? Honeycam is what you are looking for!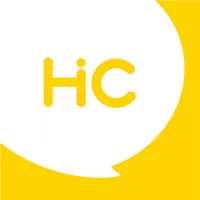 Streamer HoneyCam
Make interesting social connections with friends
Streamer and hostess at Honeycam App
Honeycam is an online video chat application 1 to 1 and multiplayer, which allows you to make friends from all over the world. With video calls and translation, you can communicate with strangers such as face to face at any time and anywhere.
It is an excellent way to eliminate social phobia and understand different cultures! Meet new friends with Honeycam now! Click to open the world for you!
Make connections Honeycam app
Honeycam offers many interesting ways to meet and talk with new friends.
As Streamer in Honeycam you can generate good income by working from your Android cell phone from the comfort of your home.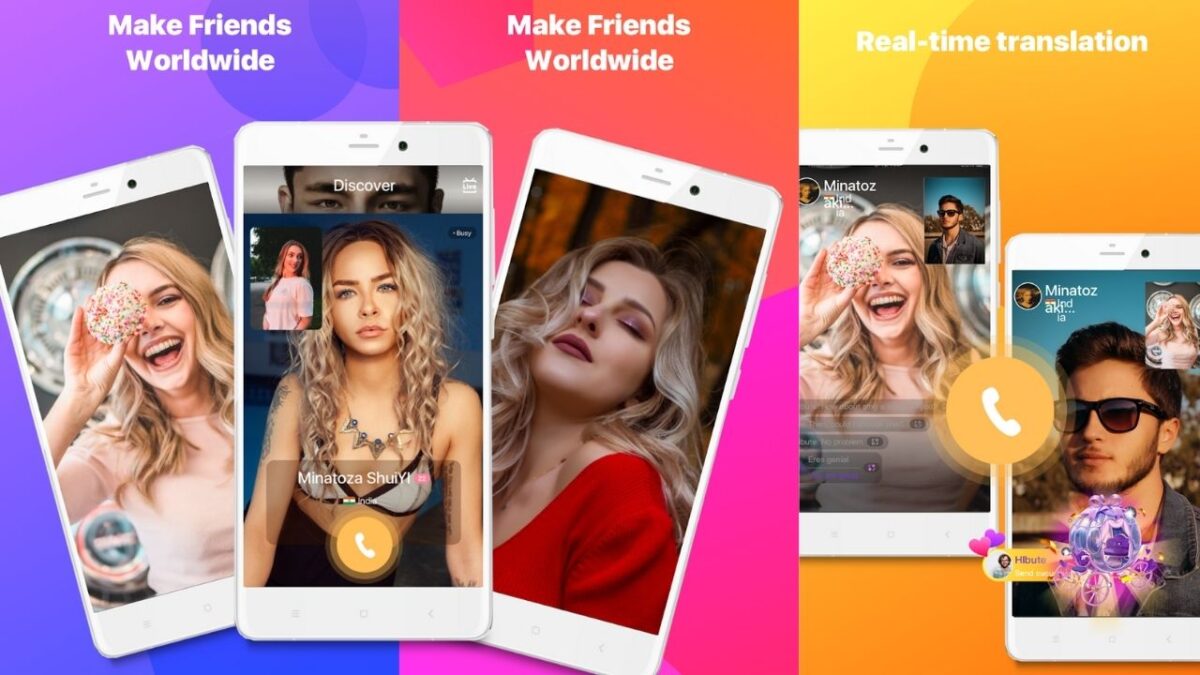 Features HoneyCam App for streamer
Video chat 1 to 1 with registered users: You can make individual video calls with people from anywhere in the world.
Select Streamer from different countries: You can chat with strangers from the country you like. Apply instant chat, through which you will not miss any friends.
Compatible with beauty effects, filters and stickers: You can customize the beauty effects to make you look more beautiful. There are a variety of filters and stickers to make your chat live more interesting.
Real-time translation: Do not worry about the language barrier because we have a useful real-time translation.
Fast and easy logon: Using Facebook, Google or Phone to quickly log in at Honeycam and start chatting with live video with a single click. For this guide it is necessary to log in by the phone option.
Send and receive gifts in live chat or text chat: The APP offers a list of popular stars, so you can follow them as you want. You can send and receive gifts from your favorite streamers to show your worship.
Live chat tips: Use our live video beauty effects so that it looks more handsome or beautiful. Upload your attractive cover to show you, brings more followers and fans, become famous as stars. The cover of the video will help you have more opportunities.
Make video calls to find a true friend at Honeycam, instead of an exciting relationship! A period of good relationship does not necessarily mean living together.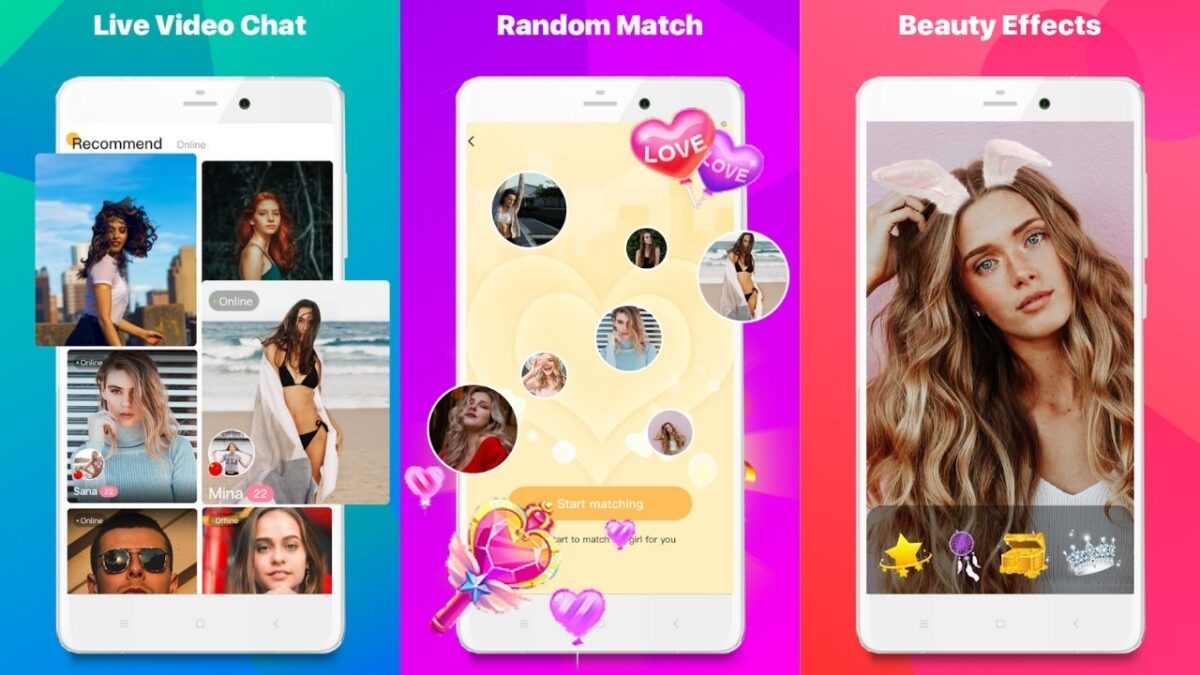 Permissions requesting Honeycam
Camara: Necessary to make the video calls, take and save the profile photos.

Microphone: It allows to capture the sound during video calls.

GPS: It is used for coincidence based on the location of users.

Photo gallery: Needed for sending photos to your friends.

Notifications: Necessary to keep up with requests for friends, messages and incoming video calls.
Honeycam application requirements for streamer
Sistema admitido: Available for Android cell phones.

Have a payment method: Have any of the following methods of payments available according to each country. ePay / Paypal / Payoneer. New methods of payments can be added later according to availability in each country.

Virtual currency: Token/Bonus Equivalent to USD. 10,000 buns equals $ 1 USD. See income table.
Salaries and Income at Honeycam App for Streamer
Virtual currency: Token / bonus equivalent to USD. 10,000 buns equals $ 1 USD. See income table.

Virtual gifts: Gifts from 50 bonus up to 10,000 bonus.

Video price Private calls: Since 2000 bonus up to 10000 bonus per minute.

Minimum payment: From 400,000 bonus, equivalent to $ 40 USD.

Frequency of payments: Weekly payments when meeting the minimum payment $ 40USD.

Frequency of payments: The revenues of the hostesses are calculated based on the number of coins won. If a hostess obtains less than 400,000 bonus, these accumulate for the next week of payments.
Rules for working in Honeycam App
Hostess Honeycam App:
You must be over 18 years old.
You can not register more than one account in Honeycam.
You can not change your agent, and the agent can not attract another hostess inside Honeycam.
The hostess can not present sexual content during its transmissions.
If the hostess or agent violates the previous rules, a strict punishment would occur, such as prohibited account, salary and commission confiscation
Honeycam APP revenue table
| Bonus/Token | Income ($) USD |
| --- | --- |
| 10.000 | $1 USD |
| 100.000 | $10 USD |
| 200.000 | $20 USD |
| 500.000 | $50 USD |
| 1.000.000 | $100 USD |
| 1.500.000 | $150 USD |
Register hostess HoneyCam App
To start working from the Android cell phone or smartphone directly from your home, then we explained step by step how the record is made as hostess at Honeycam App and start earning money online as Streamer in Honeycam.
STEP 1: Download the HoneyCam app on your mobile
To download the HoneyCam app on your cell phone, click on the following button «Download HoneyCam App» Or you can read the QR code from your cell phone.
You need to access directly from your cell phone so you can download the HoneyCam app when completing the record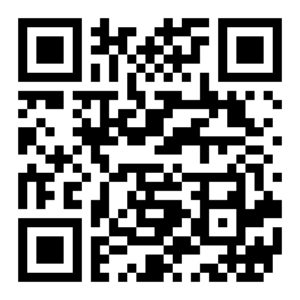 Below you will be directed to the Google Play store to download the app on your cell phone. Simply download it and once after you can open the app.
STEP 2: Log in to Honeycam App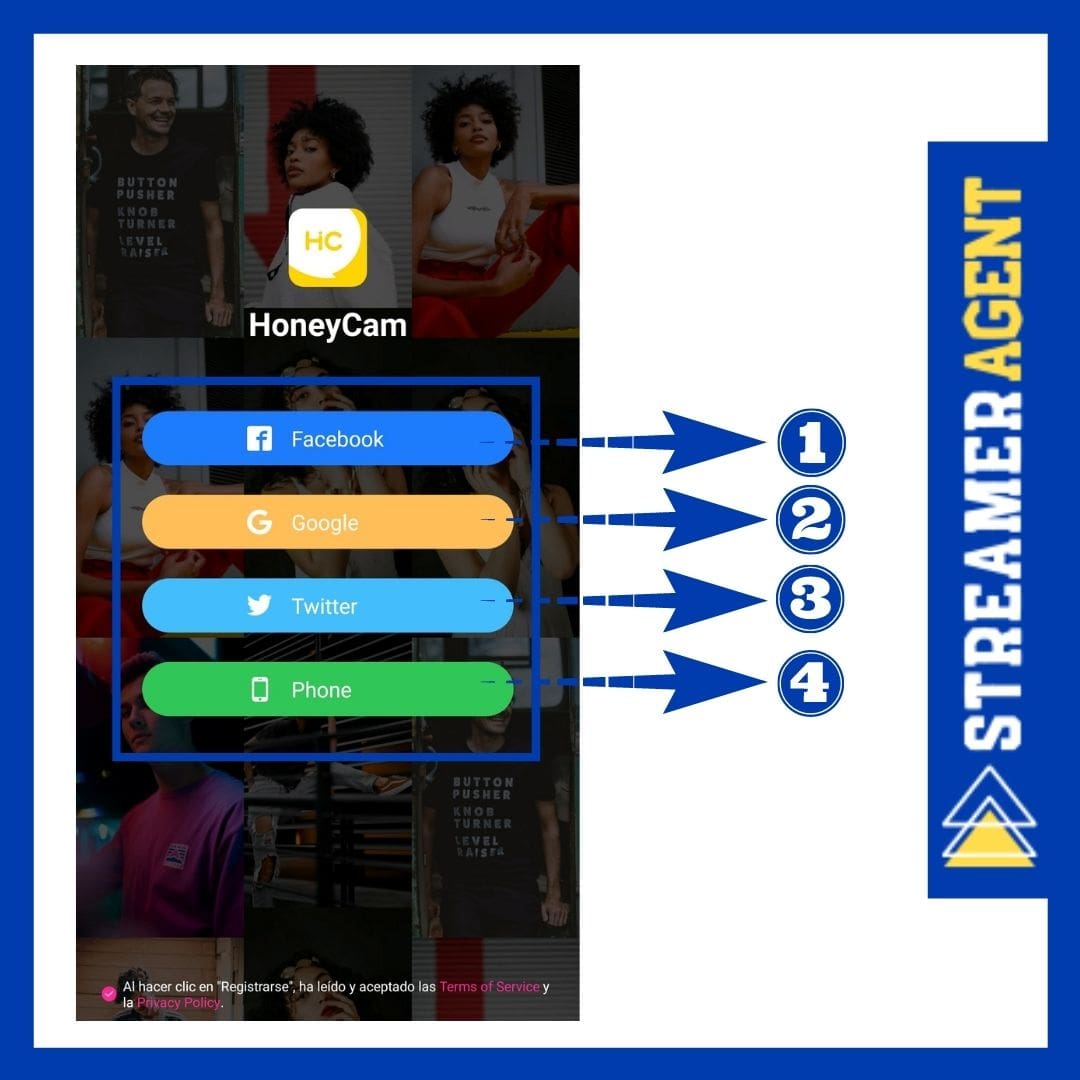 You can register and log in from any of the following options:

Facebook
Google
Twitter
Teléfono
– It asks you to configure a minimum password 6 characters that has numbers, letters and signs.
– You must select the genre "FEMALE" and put a photo of you from recent profile without frames or letters.
– You can set your "NICKNAME" or the name you would like to have on the HoneyCam App.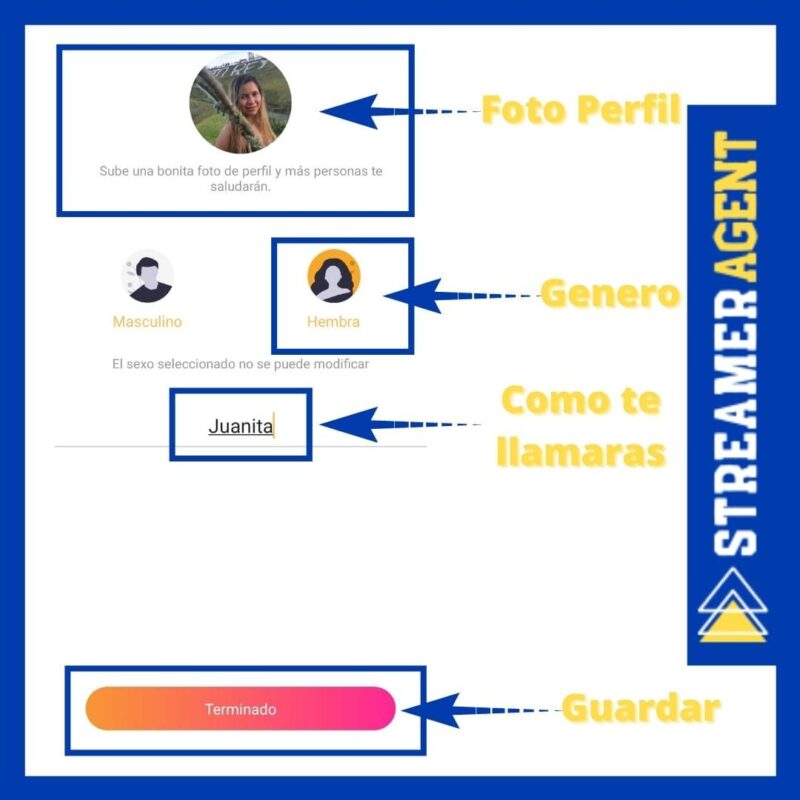 STEP 3: Activate HoneyApp to receive our Custom support.
After registering and login on the app, you go to the Profile option Then in -> My configuration, you enter the option that says "Join the Union", there you put the ID 2708 and then you give it on the "Send" button.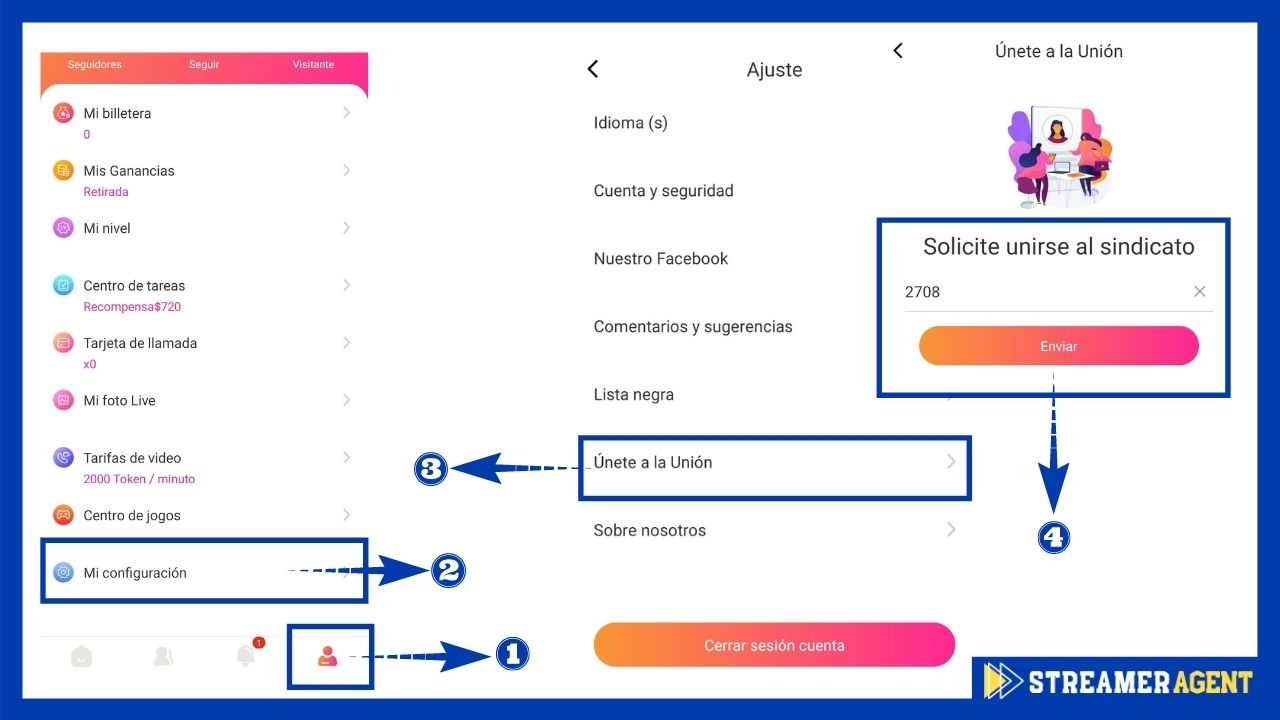 Main user option.
My Honeycam configuration
Click on "Join the Union"
Enter the code 2708 And finishes the process by clicking on the "Send" button.
STEP 4: Confirm Registration and Activation at Honeycam App
Once the record is finished as Streamer, you are going to write to our WhatsApp support numbers by clicking on the following buttons to go to a conversation where you are going to indicate the ID number you have on the HoneyCam App. You find it at the top of your profile near your photo.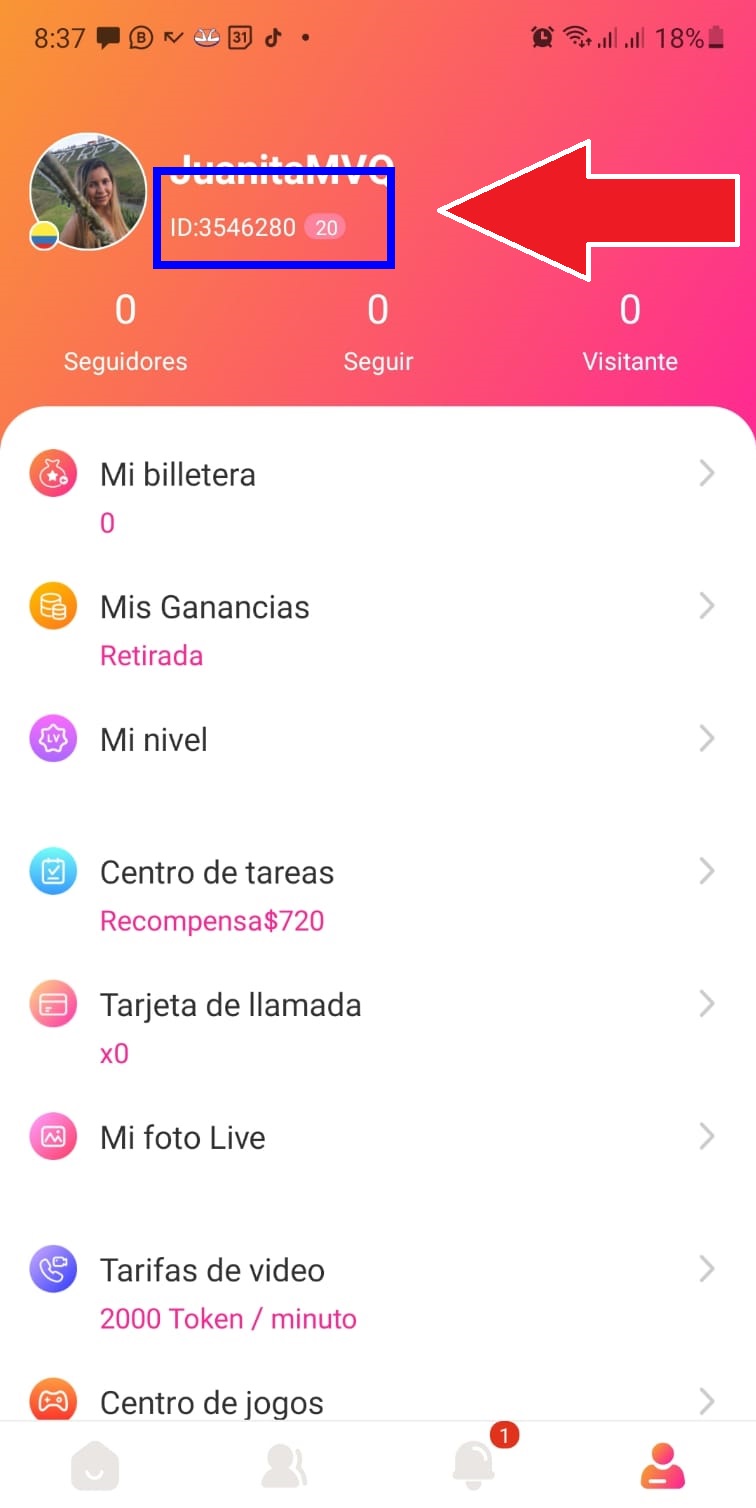 One of our specialized agents will confirm the correct record so that you can continue with the profile settings process and you can start transmitting to generate income with the HoneyCam App.
Step #3 is indispensable so you can receive our personalized support before any concerns, doubts or problems. We have a team of experts who will help get better results in Honeycam day after day. You also receive a spectacular surprise, when confirming your registration, we will add the exclusive group of WhatsApp and Telegram for aid, recommendations, suggestions, results, contests and awards ceremony.
We are the largest Streamer agency in Latin America and the Caribbean
Configuration options of the Honeycam App
Before you start using HoneyCam we must configure the profile with the basic information, an attractive profile photo, gallery of private photos and so on.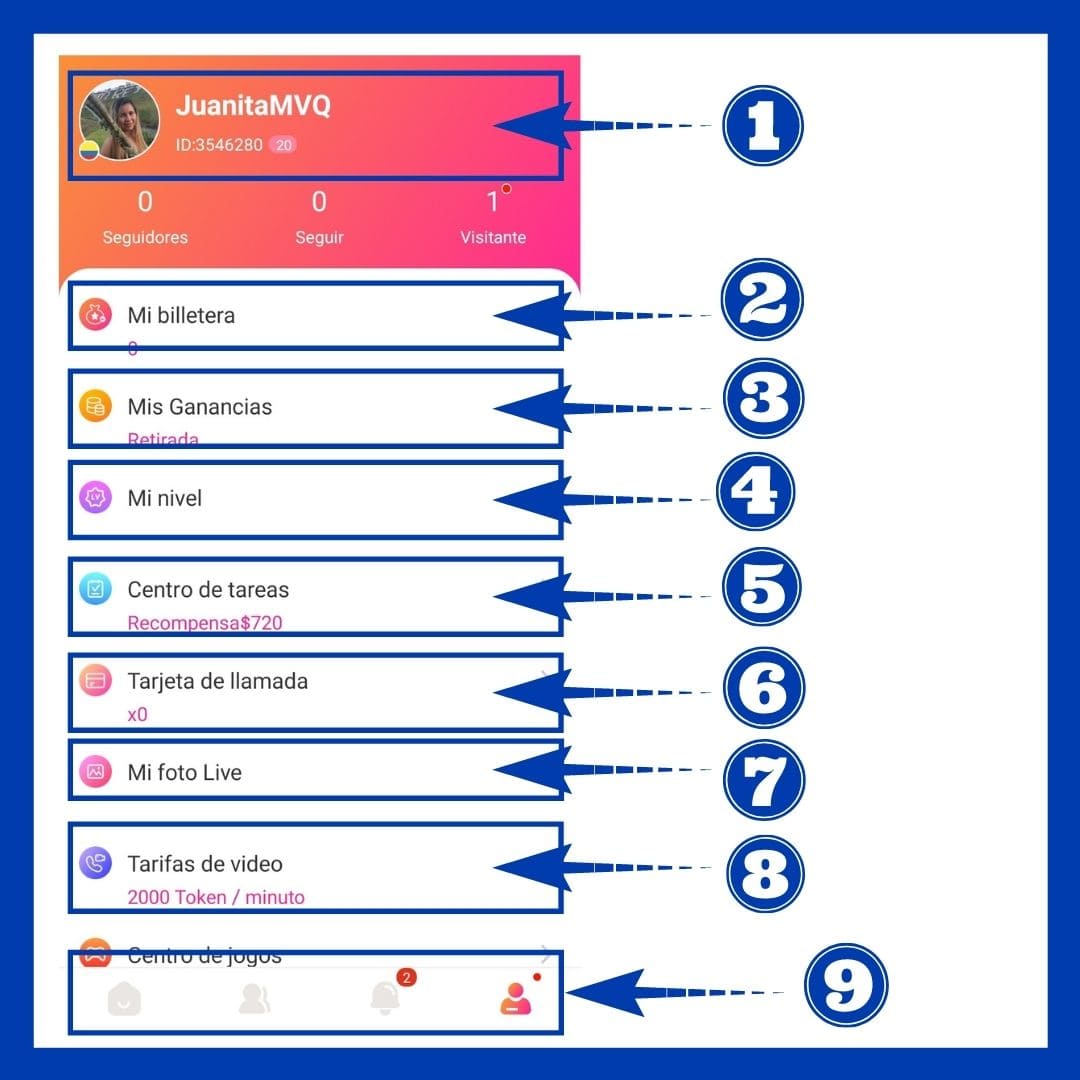 Edit profile data.
My wallet
See the statistics of my earnings
See the levels of the app
See tasks and rewards of the App. Win gifts for completing them.
Call cards
My photo Live, set the cover photo to go to Live.
Rate for videos, Token / Minute calls.
APP menu options HoneyCam.
Configure profile in Honeycam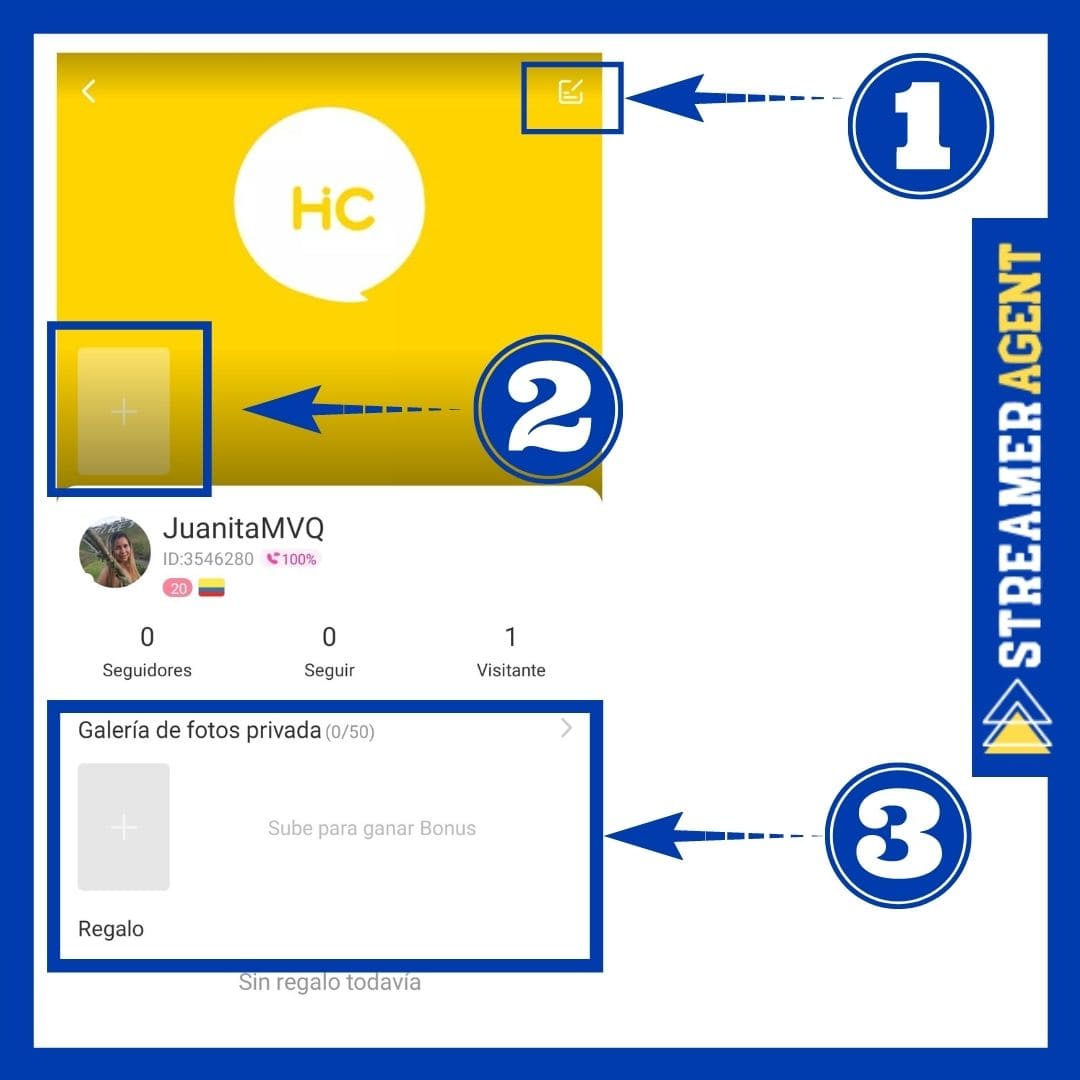 Information: This option allows you to edit the basic information in Honeycam; Basic data such as APOPTO or Name you use on the APP, date of birth or the country. The genre is not possible to change it, so that if you want to change it you must contact the Honeycam support team.
Cover pictures: You can upload several cover photos that users can see when visiting your profile in Honeycam.
Private photo gallery: You can create a private photo gallery to share with the users of the APP, you can set the price of each photo gallery that users must pay to have access to said exclusive content.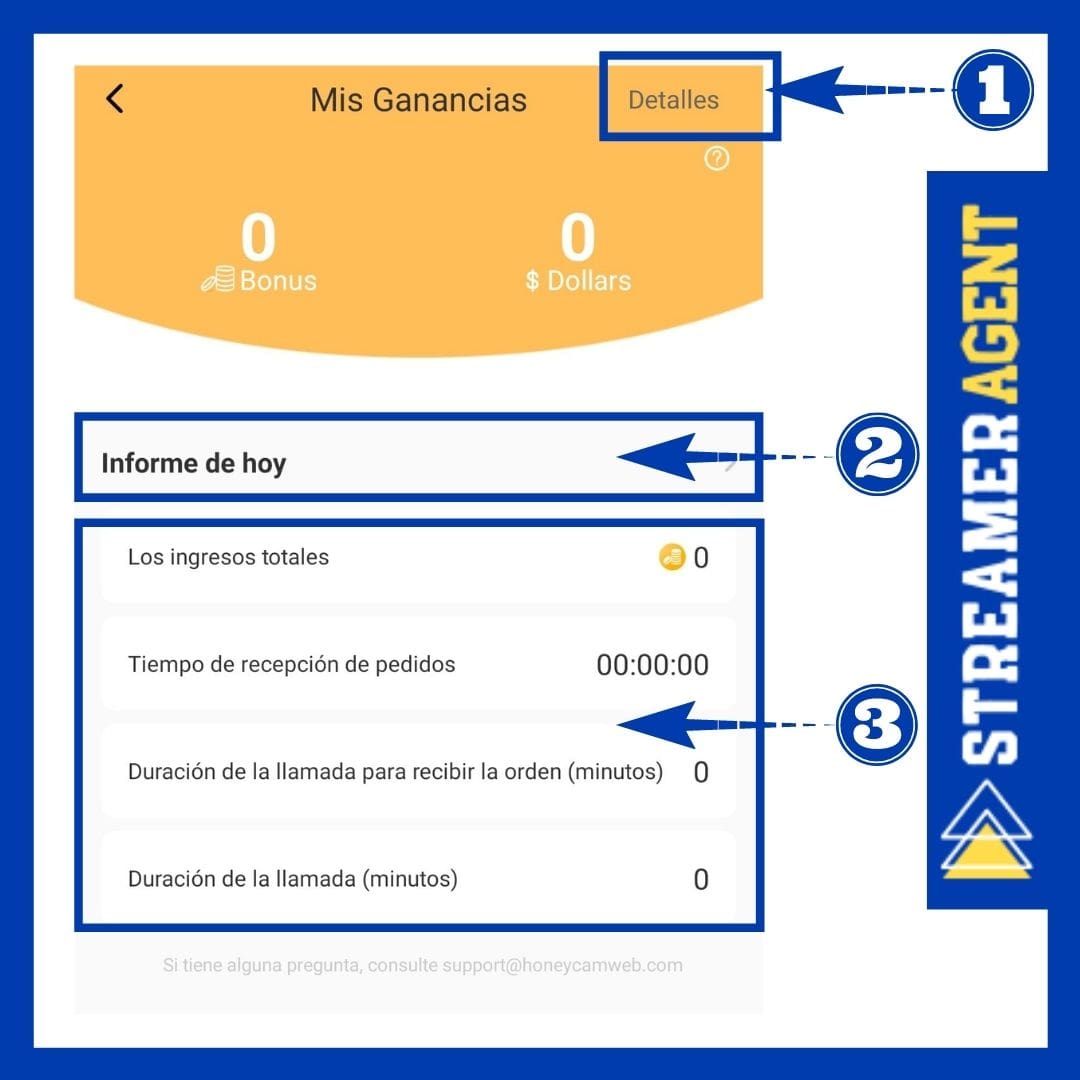 Bonus profit details: You can see all the details of the earnings made in Honeycam, where you can filter by dates, by type of profits (gifts – video calls).
Today's report: HoneyCam shows you a report of the time that you have used the app and representative income, you can see the report this week and the report of last week.
Fast statistics: You can see the fast connection time statistics and amount of income of the day.
The minimum removal amount must be greater than $ 10 USD, if it is less than $ 10 USD, accumulates for the next week.
The retirement amount must be multiples of $ 10 USD.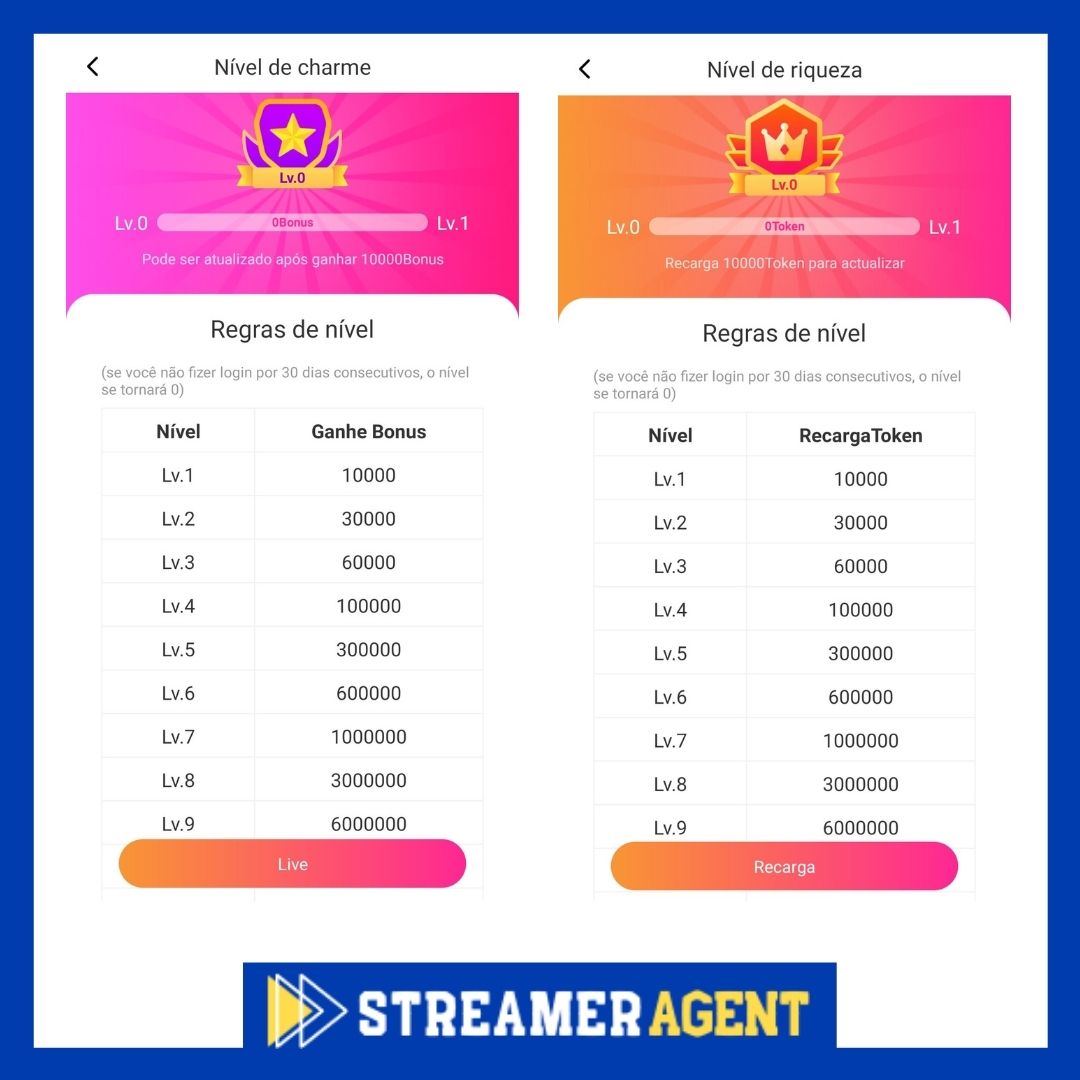 The levels in HoneyCam are taken into account for monthly income, maximum stop this month or last month. There are two types of levels, a chat level that is equivalent to Bonus, and the level of wealth that is equivalent to Tokens.
Honeycam's level of CHARME starts at LV.1 to LV.11 represented in the level table.
The Honeycam wealth level starts at LV.1 to LV.11 represented in the level table.
In such a way that if you want to increase Honeycam level, you have to generate as much income to level up and have the benefits of levels in your profile.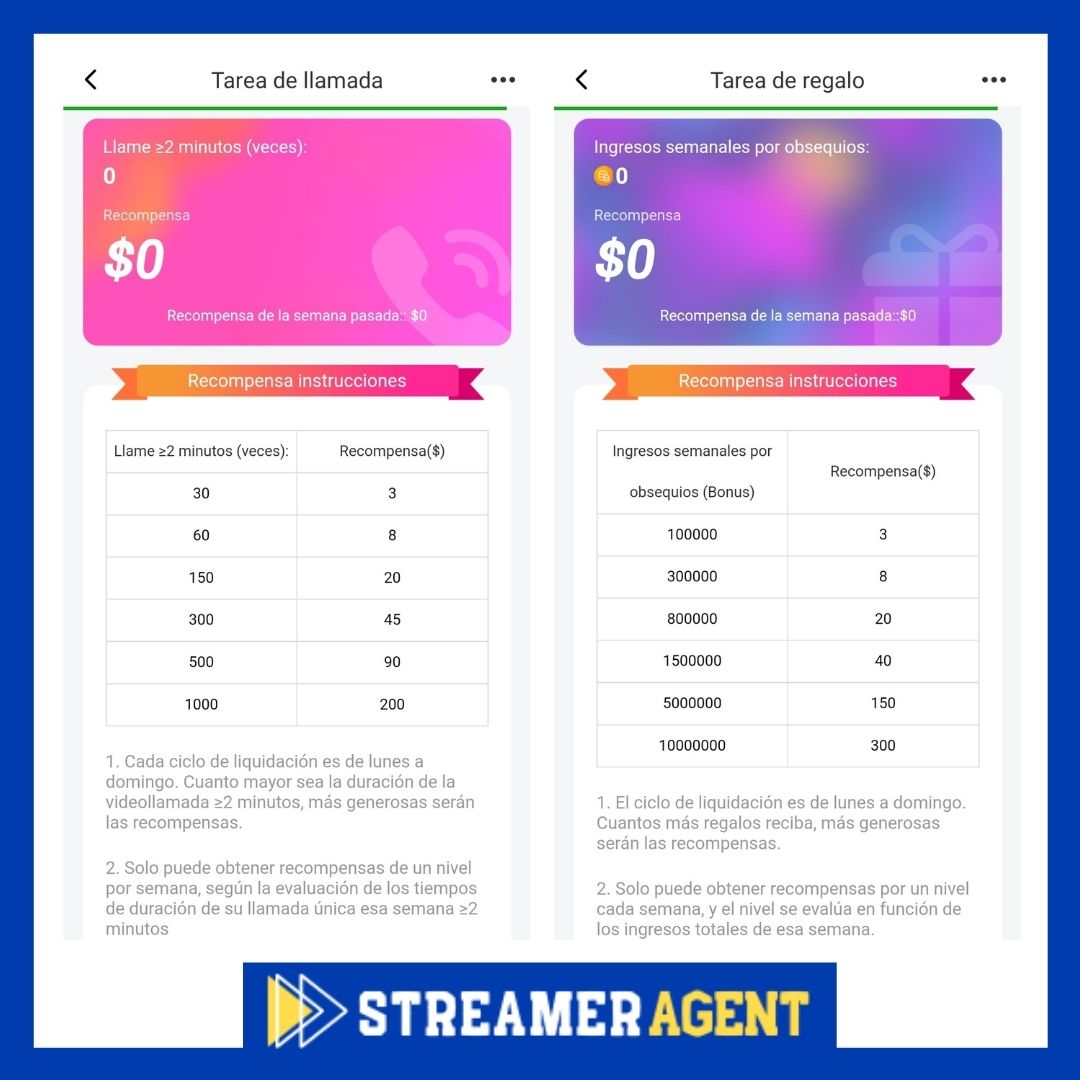 The HoneyCam Task Force and Rewards allows you to obtain prizes for certain actions and activities that you do within the APP.
Call task: Call more to get rewards.
Gift tasks: Receive gifts to get rewards.
In such a way that if you want to earn many rewards in Honeycam, you have to follow the instructions of each reward.
My live photo of HoneyCam
Upload the best beautiful photos you have of yourself, good quality, without frames or edges, no text on the image.
These photographs are the first impression that IT users will have, in such a way that if you want to cause impact and to be reminded, use your best outfit with photographs that substantially impact your profile in Honeycam.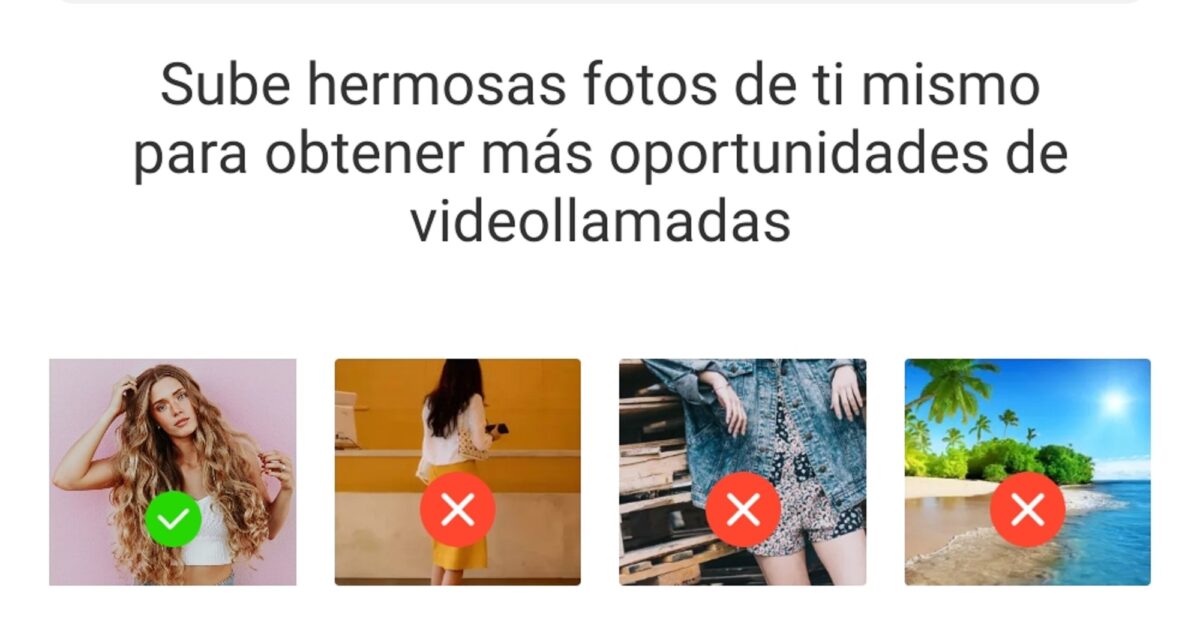 Configure price of video calls
You can set the price of video calls from 2,000 token per minute up to 5,000 token per minute.
The default price for new users in Honeycam is 2,000 token per minute (suggested price).
You have two occasions to set the price of calls at will every week (up the price can reduce the number of calls), but the price can be lowered at any time.
The fixed income is adopted because the calling opportunity provided by the platform is not adequate for the price adjustment, the free call costs 1,400 bonus per minute.
Note: It is not recommended that the price of calls be increasing too much for the first price setting, try first by climbing 3,000 token per minute.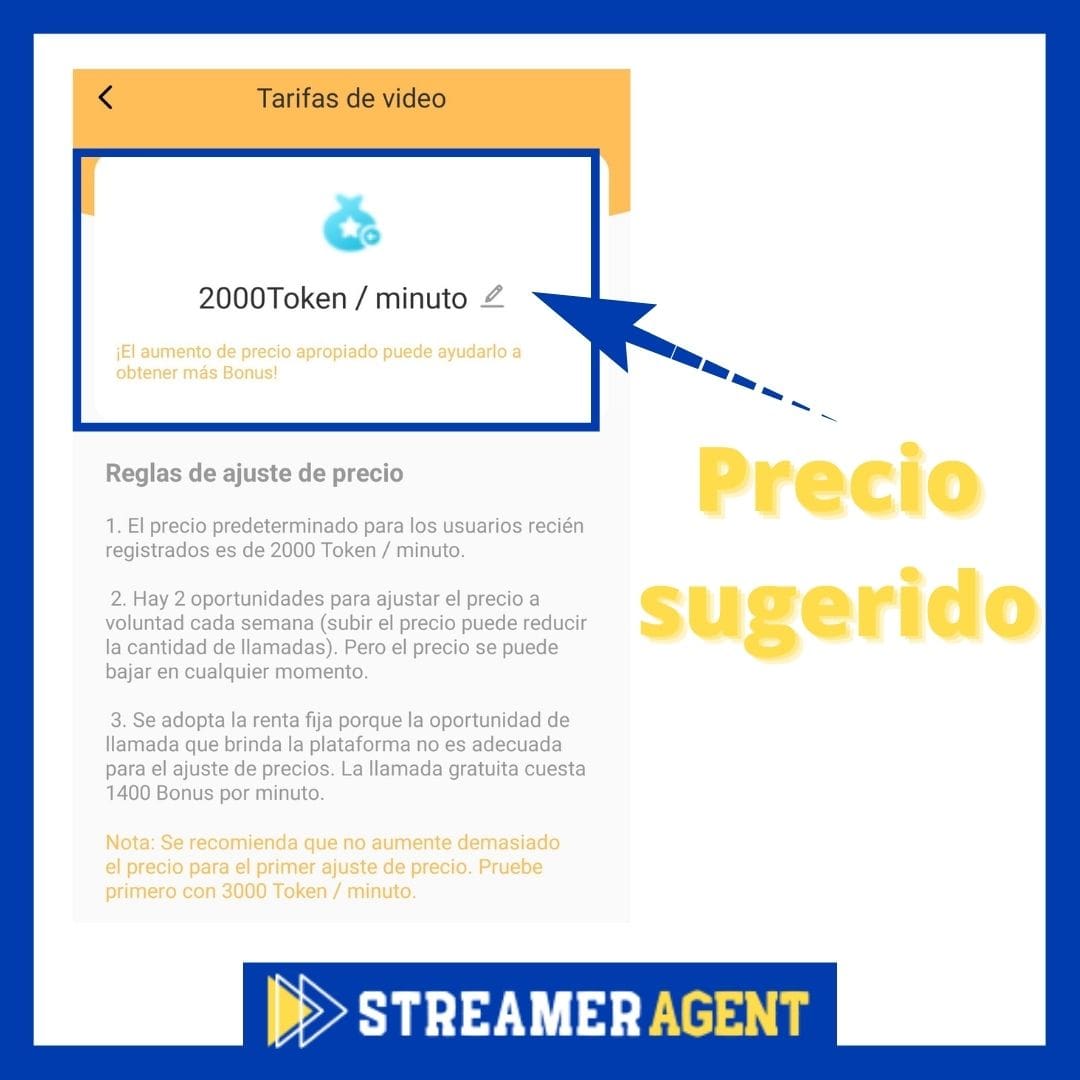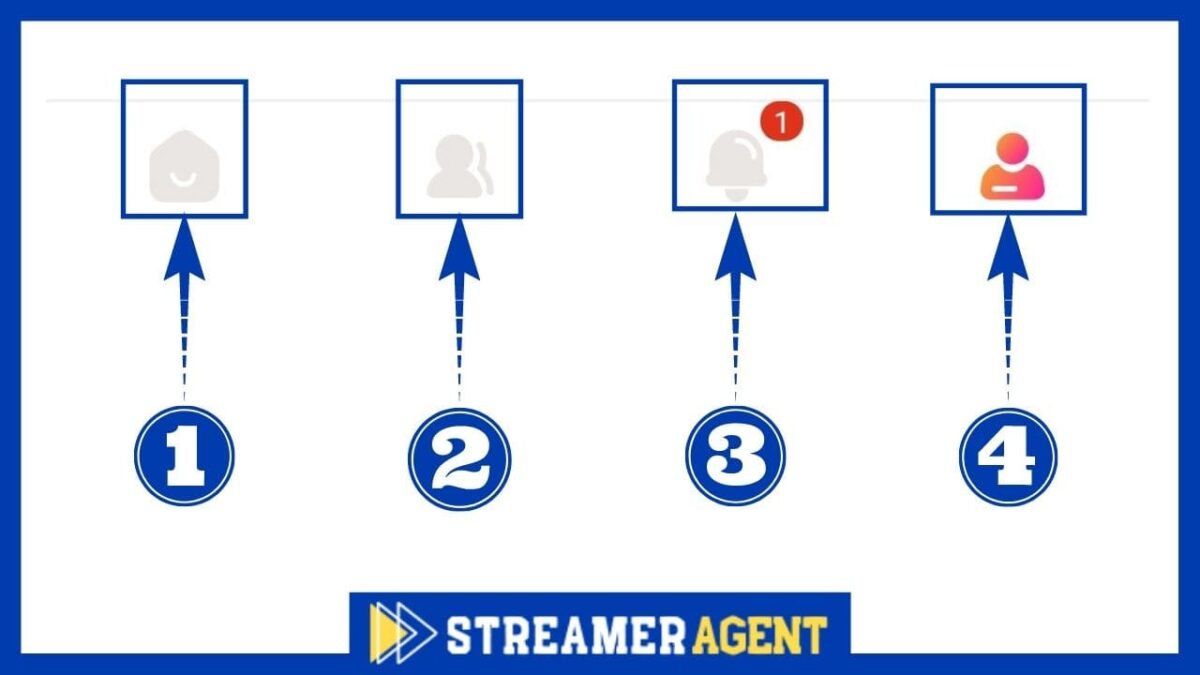 DISCOVERY: It is the Honeycam functionality that allows us to know and receive users calls, you can see other streamers. Have fun knowing new people in video calls 1 to 1. You can see Streamer, recommendations, new users of the APP, online users, games available and the daily, weekly and monthly ranking of the best streamer in Honeycam.
LET'S GO PARTY: It is the HoneyCam functionality that allows you to integrate with other streamers and make group transmissions. This functionality is activated once you exceed level 7. (see user levels in Honeycam).
MESSAGES: It is the internal courier system of Honeycam, where you can chat offline, share photos with users.
MENÚ HONEYCAM: It is the functionality to access the profile, gains, levels, account configuration and other SPP configurations.
Configure payment method in Honeycam
Payments at Honeycam App are done on Mondays, Wednesdays and Fridays.
The days of cut are Tuesday and Thursday at 12pm UTC +0.
The minimum payment is $ 40 USD.
HoneyCam sends its earnings using the following payment methods according to availability in your country.
To create your personal account in Payoneer, click on the following button «Create PayOneer account» or you can read the QR code from your cell phone to speed up the record.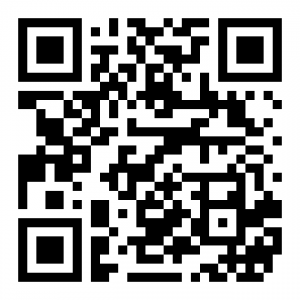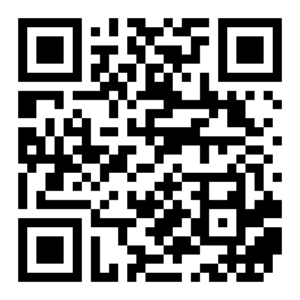 Periodic Tracks Weekly and Monthly Honeycam
Rules of weekly rewards: The Court is from Monday to Friday (International Time) at 00: 00-24: 00
Results on Thursdays
The bonuses will be paid directly to the Streamer account live in the form of equivalent bonuses.
The streamers who fail to comply with the rules of the AP will not receive their rewards.
First place: $80 USD
Second place: $50 USD
Third place: $30 USD
From the fourth place to the tenth place: $15 USD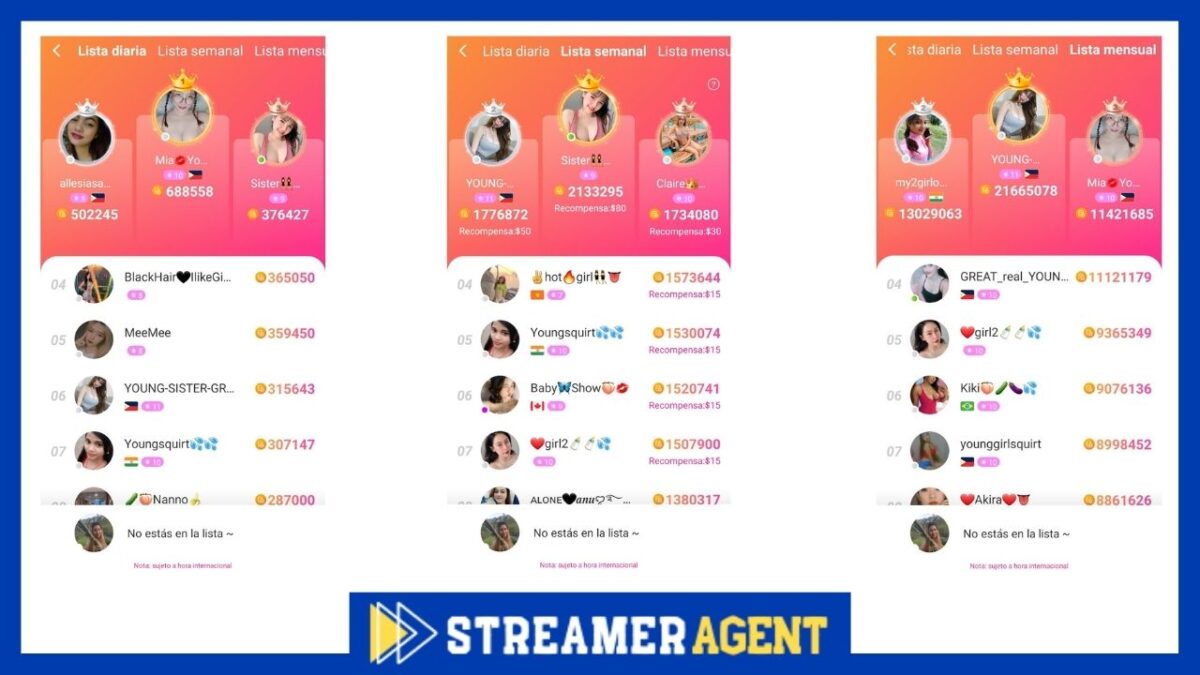 The hostess must be adequately dressed as it transmits live.
The hostess must have adequate clothes and be made up.
It is forbidden to transmit naked, even if the body of the hostess is partially covered with a veil or towel.
Transmission is not allowed in lingerie or without additional clothing.
The breasts, buttocks and external genital organs must be completely covered with an opaque tissue.
The lower point of a neckline should not be below the bottom of the chest.
Showing or bathing in a live broadcast is prohibited.
Nakedness or excessively sexualized content is not allowed.
It is totally forbidden to share personal and contact data.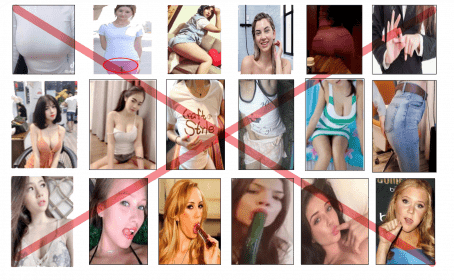 El incumplimiento a las reglas puede originar la suspensión de la cuenta por un tiempo determinado o si hay reincidencia en el incumplimiento de las reglas originaria la cancelación de la cuenta.
El contenido sexualizado se entiende como: actividad sexualmente sugerente o provocadora que puede incluir posturas o comportamientos sexuales, lenguaje sexual sugerente o provocador, servicios sexuales ofrecidos como escort o actividad sexual filmada.
Privacy Policy Honeycam App
Host Tips and Recommendations Honeycam
We have collected some advice and recommendations for HoneyCam hostesses to get the most out of the chat app and earn money.
Climb an attractive profile image to improve the chances of receiving more calls.
Use a good name on the biography, use emoticons and share your tastes.
Climb Private Photo Gallery. You can upload up to a maximum of 50 galleries.
Keep the profile updated with all the information requested.
Keep your background clean and enjoyable while connected, use headphones to communicate better with users.
Make sure you show your face always in the center of the screen.
Use always makeup and have good lighting.
Make many friends and give priority to disinterested conversations, the Bonus or Tokens will come as a supplement when you make you want for users.
If you have many followers in the Honeycam application, try a member with other hostesses on party transmissions, you can challenge another host girl.
After a few months of acquiring many followers in Honeycam, you can analyze the option of increasing the price of your video call, entering the option (Setup Profile> Video Rates) to earn more.
Note: It is not recommended to increase too much the price of calls for the first price setting, try first up climbing 3,000 token per minute.
Support and personalized help on Honeycam
If you need help or personalized technical support about the HoneyCam app and all its functionalities, you can contact the Help WhatsApp. It is very important that when you write yourself, which is your name, ID of the app, that country you are and what phone number you used for the record and that you have previously completed the registration process of our guide.
Our support team will be happy to talk with you and help you solve all the concerns you may have, you can also give you new recommendations and suggestions so that you can improve the income in Honeycam.
Frequent questions

Streamer HoneyCam
Answers to the most frequently asked questions about Streamer hostesses at Honeycam App.